Okay, I'm regaining hope for Philippine cinema or at least yung mga recent films na napanuod/nababalitaan ko. After the wonderful Babae sa Septic Tank last month (?) or so, here's another indie/Cinemalaya film making its way to our mainstream cinemas: Zombadings: Patayin sa Shokot si Remington.
Even the poster's awesome (via)
Para sa tamad na nagbabasa ng front page lang (kung meron man), I recommend this film. Go watch and support it!
The past few weeks, people we're raving about this film same way that people raved about Babae sa Septic Tank last month so I naturally got curious and wanted to immediately see for myself what all the fuss was about as soon as it got released in major cinemas and for the second time in a span of a few weeks, a Filipino film
again
entertained me and the audience in the theater. Clap clap!
For people who live in caves or rocks, Zombadings is really about Remington (Martin Escudero) and his evolution into gay-hood (if that's a word). The film starts with Remington during his childhood days, teasing and pointing fingers at gay people in their community until one day, he teases the wrong guy (Roderick Paulate) and gets cursed in the process: he'll turn gay when he grows up. We then fast forward to 15 years later and we see Remington as a typical tambay in his community (Lucban), jobless, drinks with his bestfriend and buddies at night, and is trying to get the pretty girl (Lauren Young) in his community.
The kid was very energetic (via)
At the same time, a serial killer is in town, killing a particular demographic: gay people/mga bading. This particular storyline is being investigated by the chief of police/Remington's mom (Janice de Belen) and her sidekick Mimi.
The film however, focuses more on Remington's problems when the curse starts to kick in. He gets attacked by a particularly muscled man who attacks Remington's specific body parts. You need to pay attention to what the guy does when he attacks Remington to easily see the changes in Remington's character. The film goes for the "Patayin sa Shokot" theme here in a creative way that each "haunting" is pretty special in their own right. It has all the typical shots (attack from behind/sleeping in bed/etc.) needed for a horror film while injecting some comedy in the process.
Wonder who this guy is (via)
After each transformation, we see the immediate effects on Remington's attitude, movement and his relationships with the people around him. He starts to be more jolly with Hannah (Lauren Young) and her mother Eugene Domingo, he steals some quick looks at his bestfriend Jigs (Kerbie Zamora) and he is shown as a happy yet still conflicted person. Props to Martin Escudero for awesomely creating a believable character who's struggling inside: trying to control his growing gay-ness or letting it all loose as you'll see in one of the more memorable scenes from the film. Here's a preview: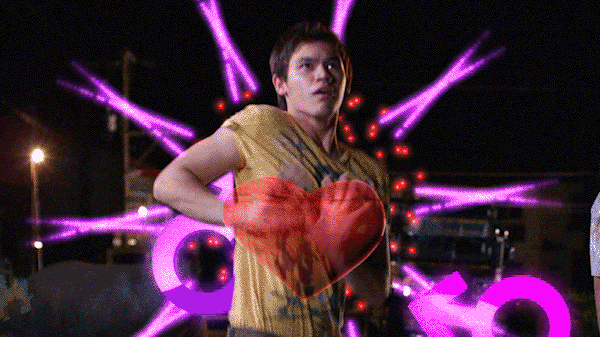 Pucha ikaw na! (via)
The supporting cast were also wonderful in the roles given to them. Janice de Belen and her sidekick were particularly funny during their investigations lalo na when they got to the gaydar part. Eugene Domingo, kahit na wala syang lines masyado, was very effective and still had her own moments kahit na 5 minutes lang yata sya nasa screen. Same goes to Roderick Paulate na macoconsider na cameo lang halos. Lauren Young was also OK for her role though her character's relationship with Remington needed more development para i-cheer din sila ng mga tao. On the other hand, Jigs' relationship with Remington evolved more naturally na in the end, you'll want them to be together because of their chemistry which was apparent in a scene that everyone needs to watch and see.
Laughed for 5 minutes STRAIGHT. (via)
The downside though with all these developments was that some aspects of the story seemed rush. If Babae sa Septic Tank had its dragging moments, Zombadings sometimes jumps from point A then immediately to point E. I said something about Hannah and Remington's relationship that needed to be further developed to be more believable, you'll see what I'm talking about at the end of the film with Hannah's speech. There's the mayor who really had no role and I'd say a
meh-pwedeng wala na-character
whose sole purpose was to utter the line Zombading. Oh and also the 'zombading' part
na parang kinabit na lang sa dulo
dahil it happened so suddenly.
Pero kahit na may ilang downsides (lahat naman ng film meron) These negative notes are minor as compared to how funny the movie was. Look at some of the nicer touches of the film: subtitles on gay speak (na last ko nakita sa Airplane! when they used subtitle on jive speak), dinudugong ilong, and other subtle jokes like that very significant speech by Daniel Fernando.
Round of applause to the cast and crew. The writers did a great job in this one, and to the director as well. Enjoyed the B-movie feel nung ilang scenes. It's a very smart and funny film that does not insult/poke fun/bully the LGBT community, but empowers them and says: everyone,it's okay to be happy and gay! Tell me when Zombadings 2 will come out! (no pun intended)

4 out of 5.
AWAAAARD! (via)